Why reinvent the wheel with each new WordPress website project?
Speed up your website creation with easy-access cloud storage and a community template marketplace.
Community Page Builder Template Marketplace
Free Page Builder Templates
Never design from scratch again. Get access to free page builder templates.
Get a head start on your next project with a collection of templates driven by the community. From beginners to experienced builders, these templates are designed to save you time and effort while providing the flexibility to make them your own with just a few clicks. Create the website of your dreams effortlessly with these free page builder templates.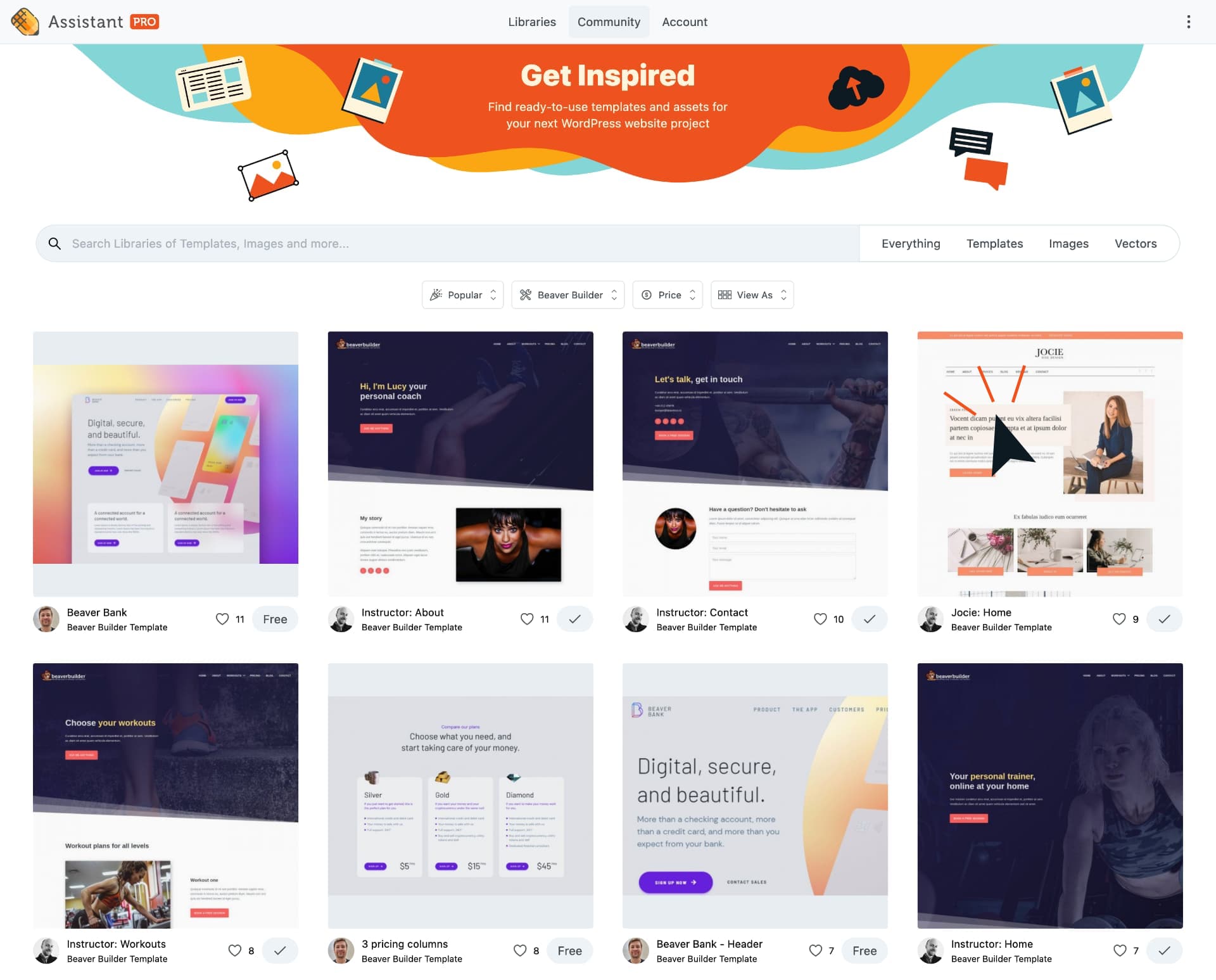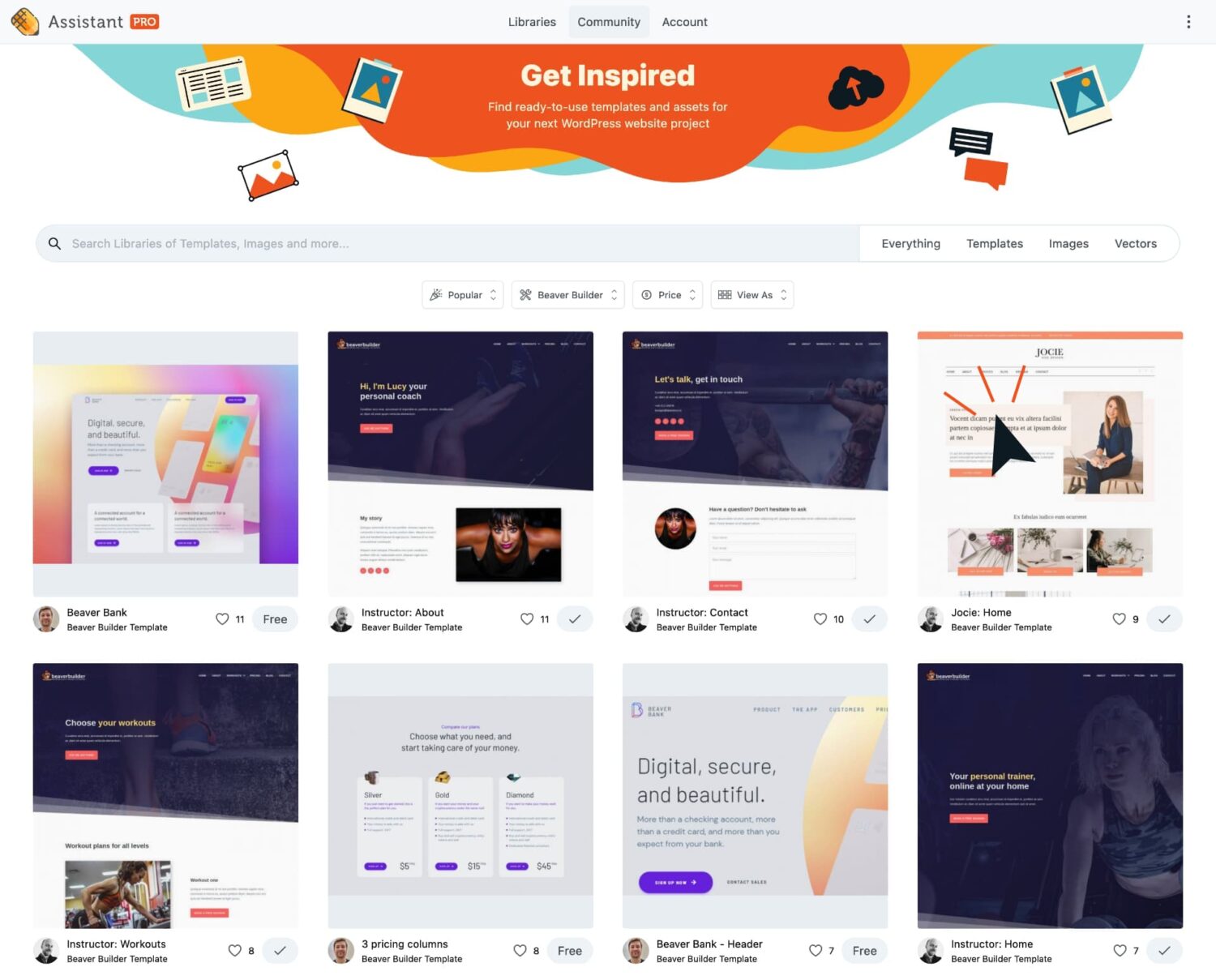 Buy Page Builder Templates
Create stunning websites with ease with a collection of premium templates.
Our community marketplace offers premium page builder templates to help you save time and effort. Each template is carefully crafted by experts, ensuring that your website will stand out from the crowd. You can easily customize these templates to make them your own. Invest in premium page builder templates today and bring your website dreams to life!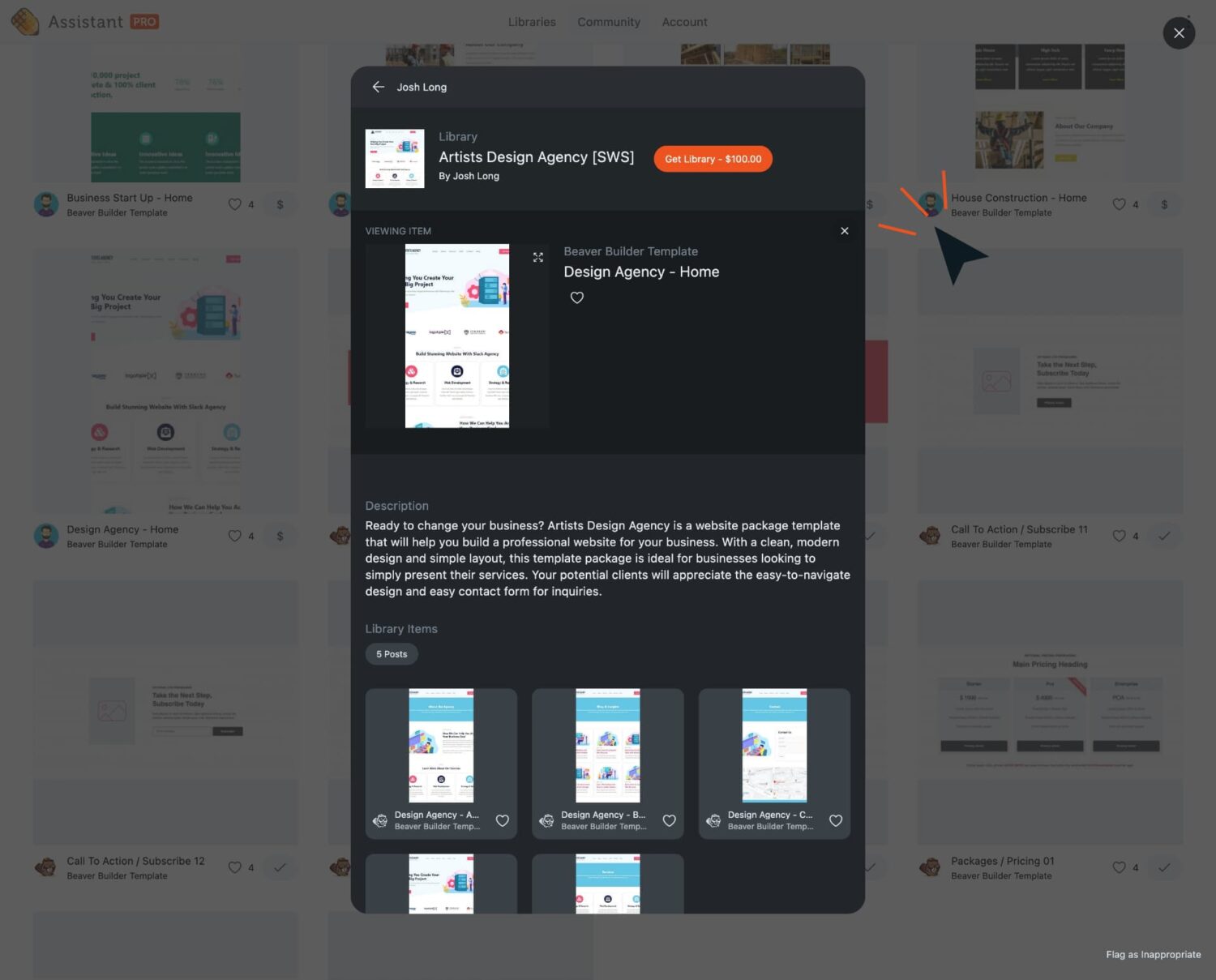 Sell Page Builder Templates
Earn passive income by selling your custom page builder templates to the community.
Sell your page builder templates and earn money. Showcase your skills in our marketplace and reach a global audience without the hassle of marketing. We handle payments and manage the platform, allowing you to focus on creating stunning designs. Build your brand and gain recognition as a talented template designer.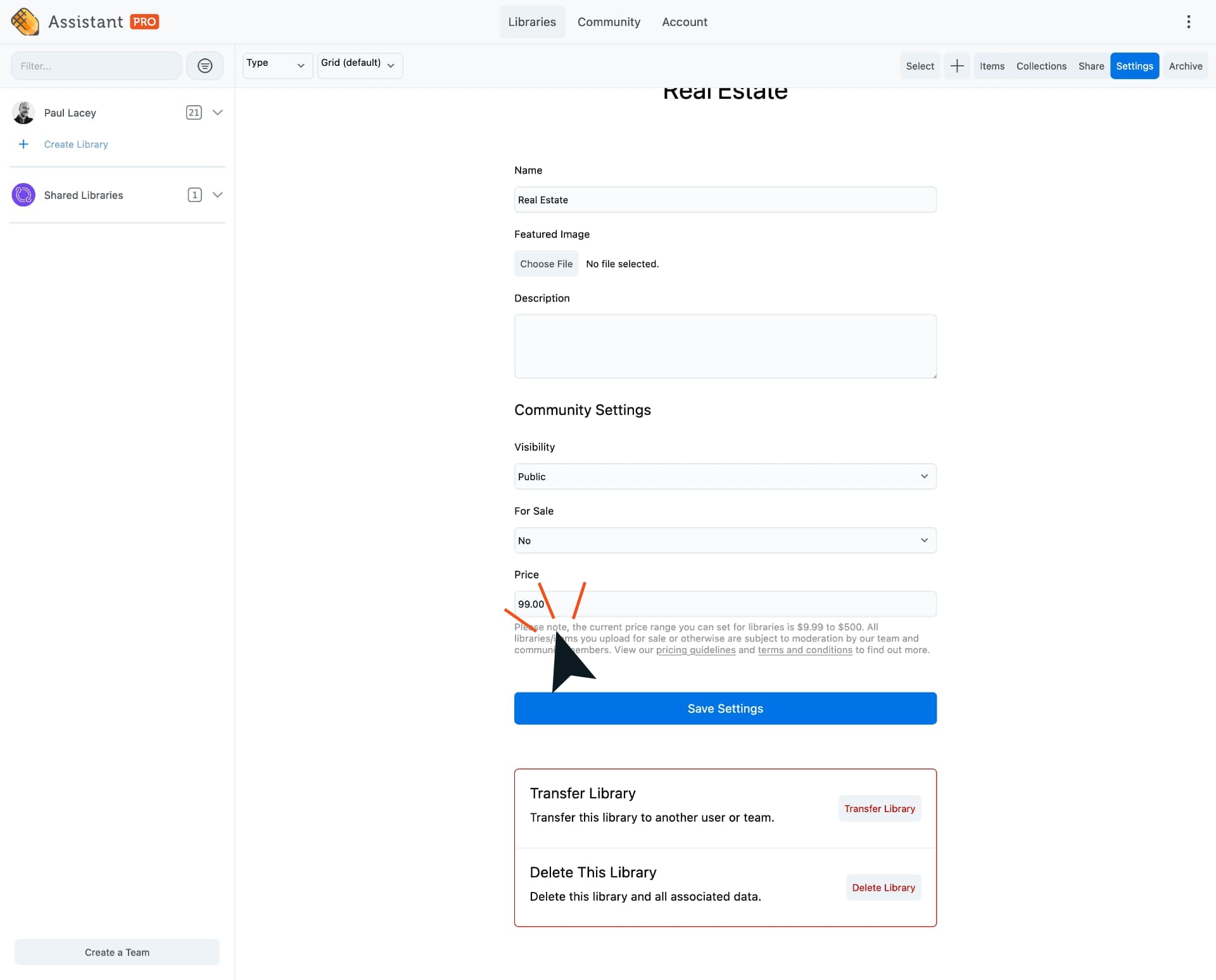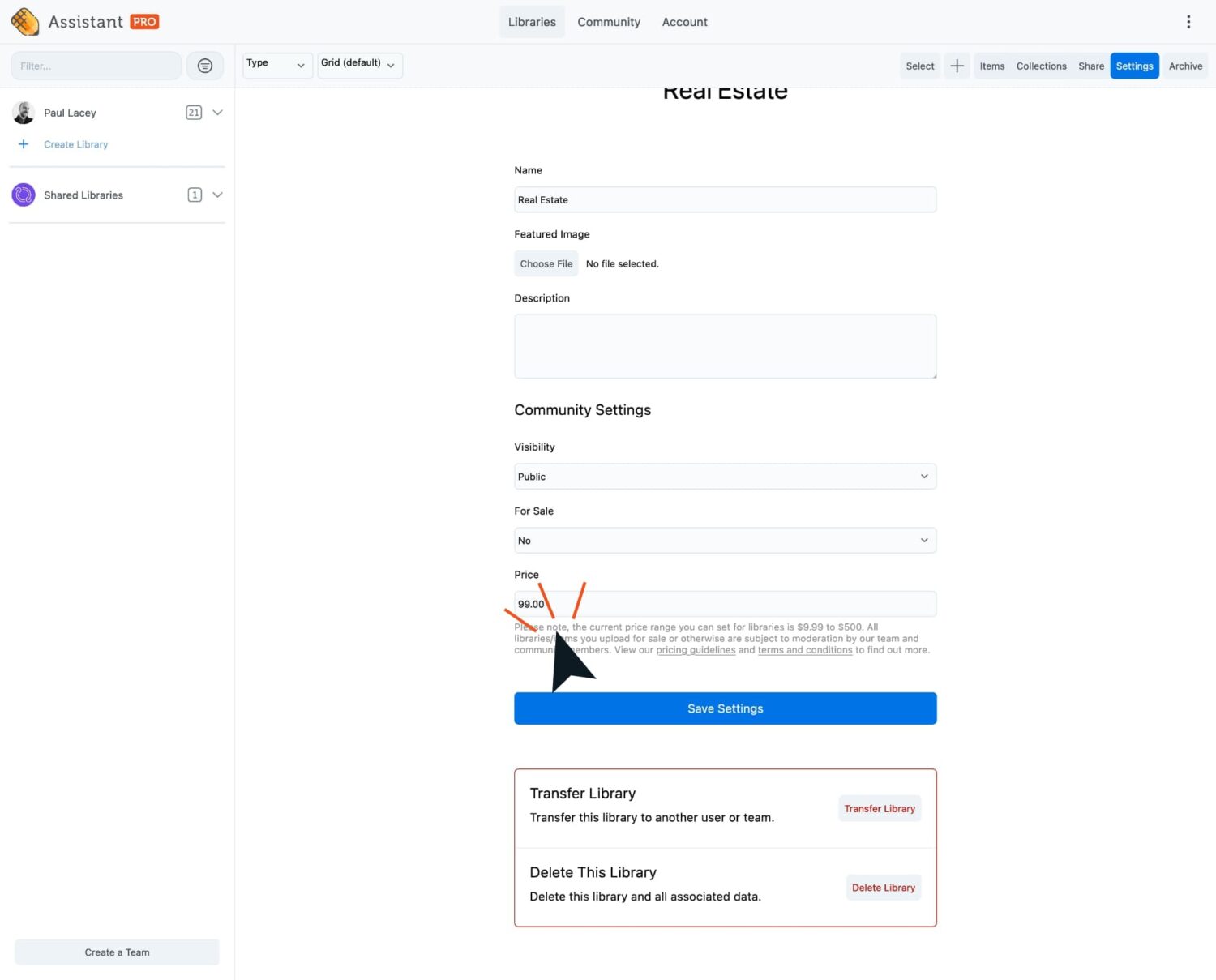 Assistant Pro Is Like Dropbox, But For WordPress Developers
Get access to page builder templates from the cloud and have them readily available to import into any of your WordPress sites.
Save Templates to the Cloud
Store and organize all of your templates in one secure and convenient location.
Say goodbye to saving images and media files in Dropbox, Google Drive, or onto your desktop. Easily save your favorite landing page templates, prebuilt rows, headers, footers, columns, and rows, directly from pages you're building, and sync items from your cloud account. Streamline your website-building workflow and boost your productivity with Assistant Pro.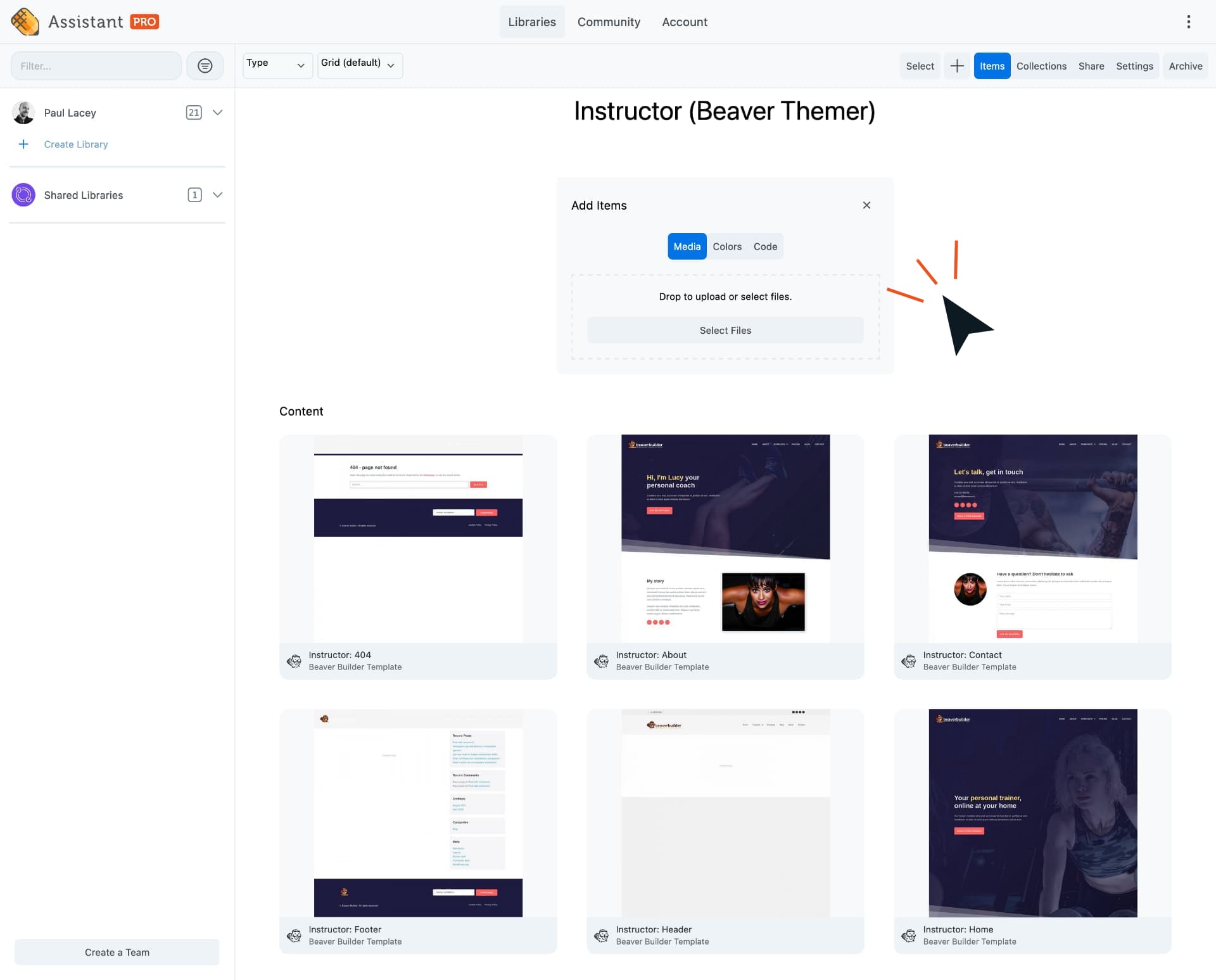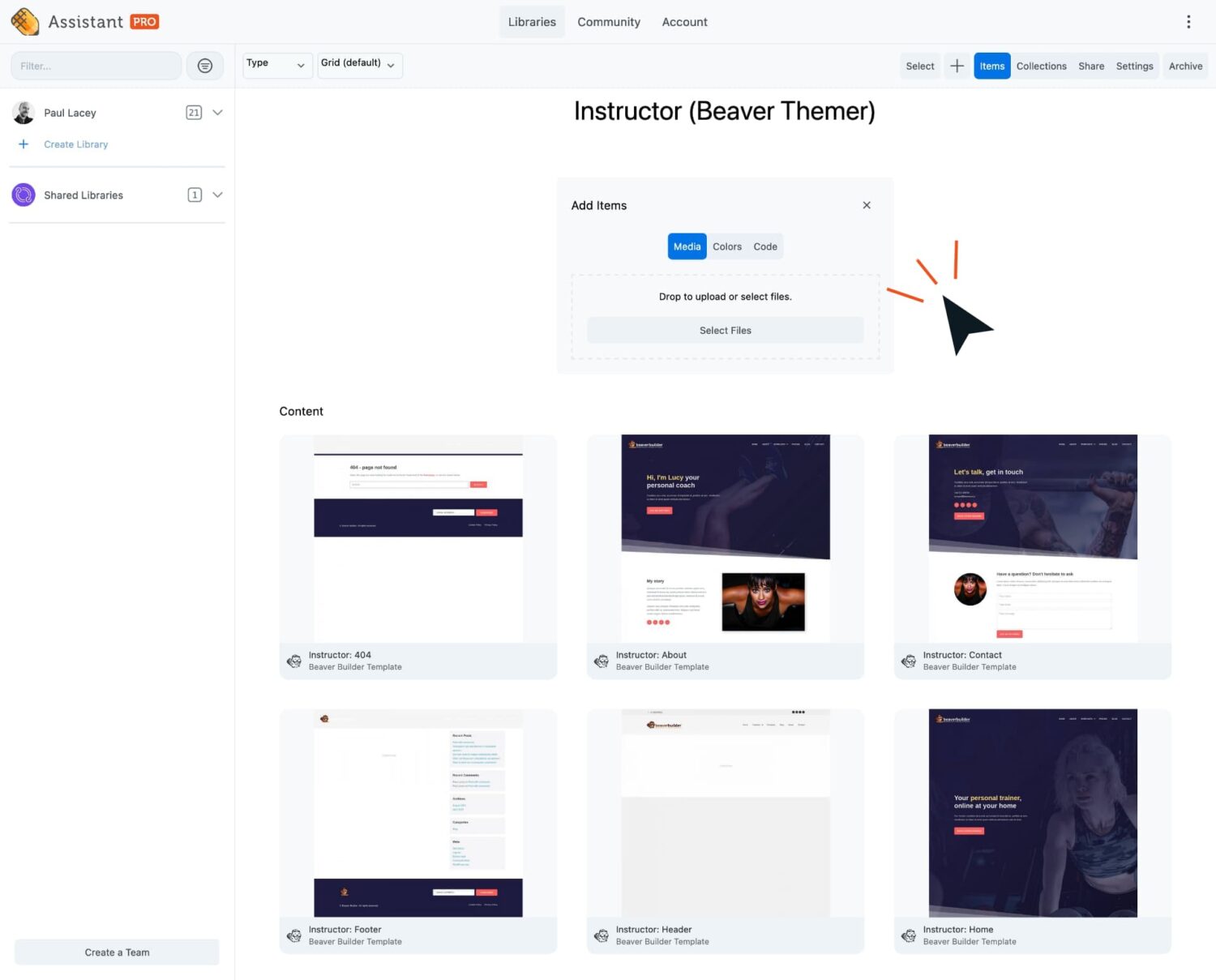 Access Your Templates Anywhere
Easily access your template library on any WordPress website that you're building.
With Assistant Pro you can access your templates from the cloud so you can reuse them on any web design project. Just find the design asset you want to use, one-click import it to your client's site, and customize it with your favorite drag-and-drop builder. It's as simple as that.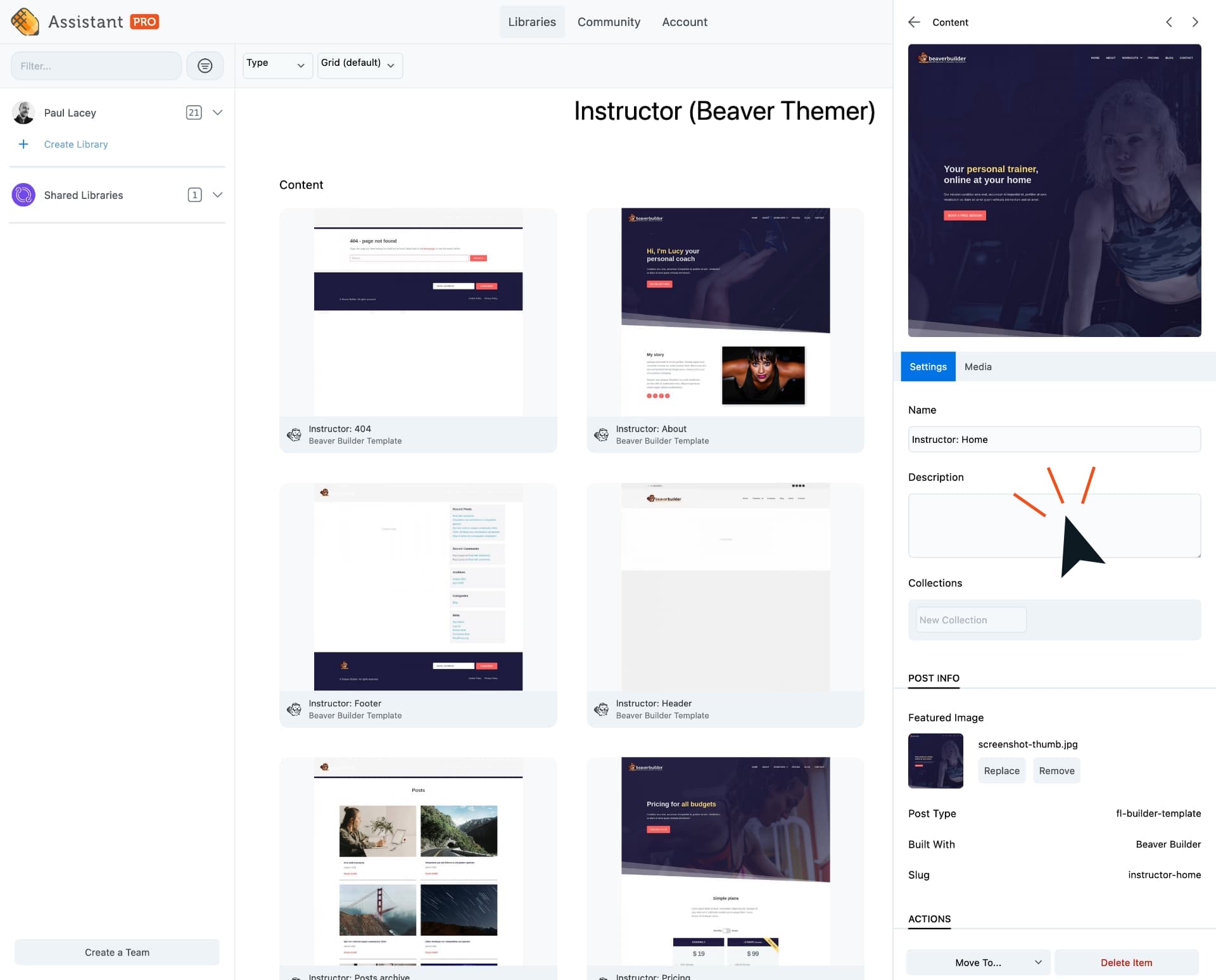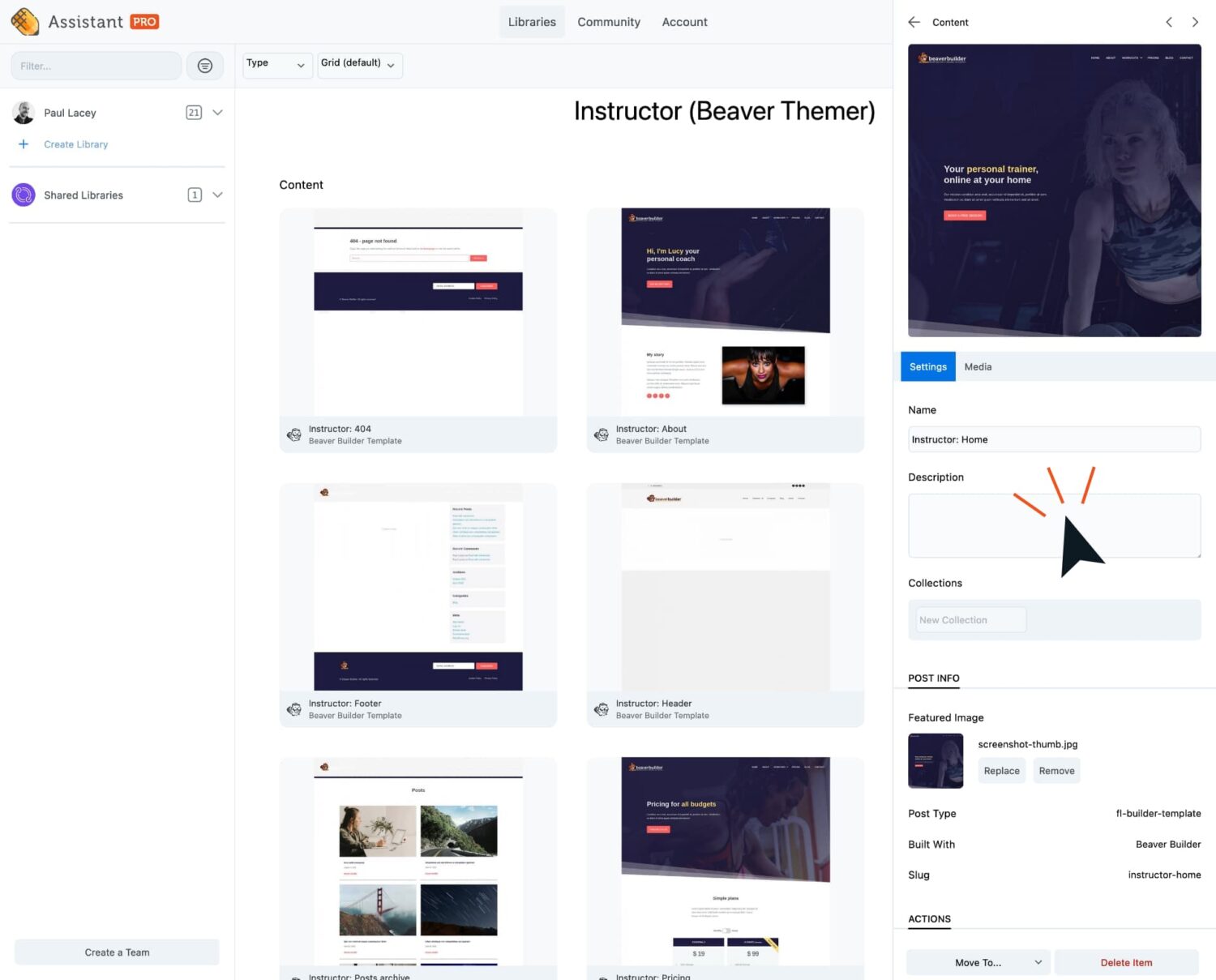 Find Design Templates Easily
Effortlessly find your saved layouts with thumbnail images and screenshots.
Say goodbye to the hassle of searching through file names and post titles to find your desired templates. With Assistant Pro, every layout you save is automatically accompanied by a thumbnail image or screenshot, making your design search effortless and visually appealing. Browse through your Libraries with ease and find your saved layouts in no time.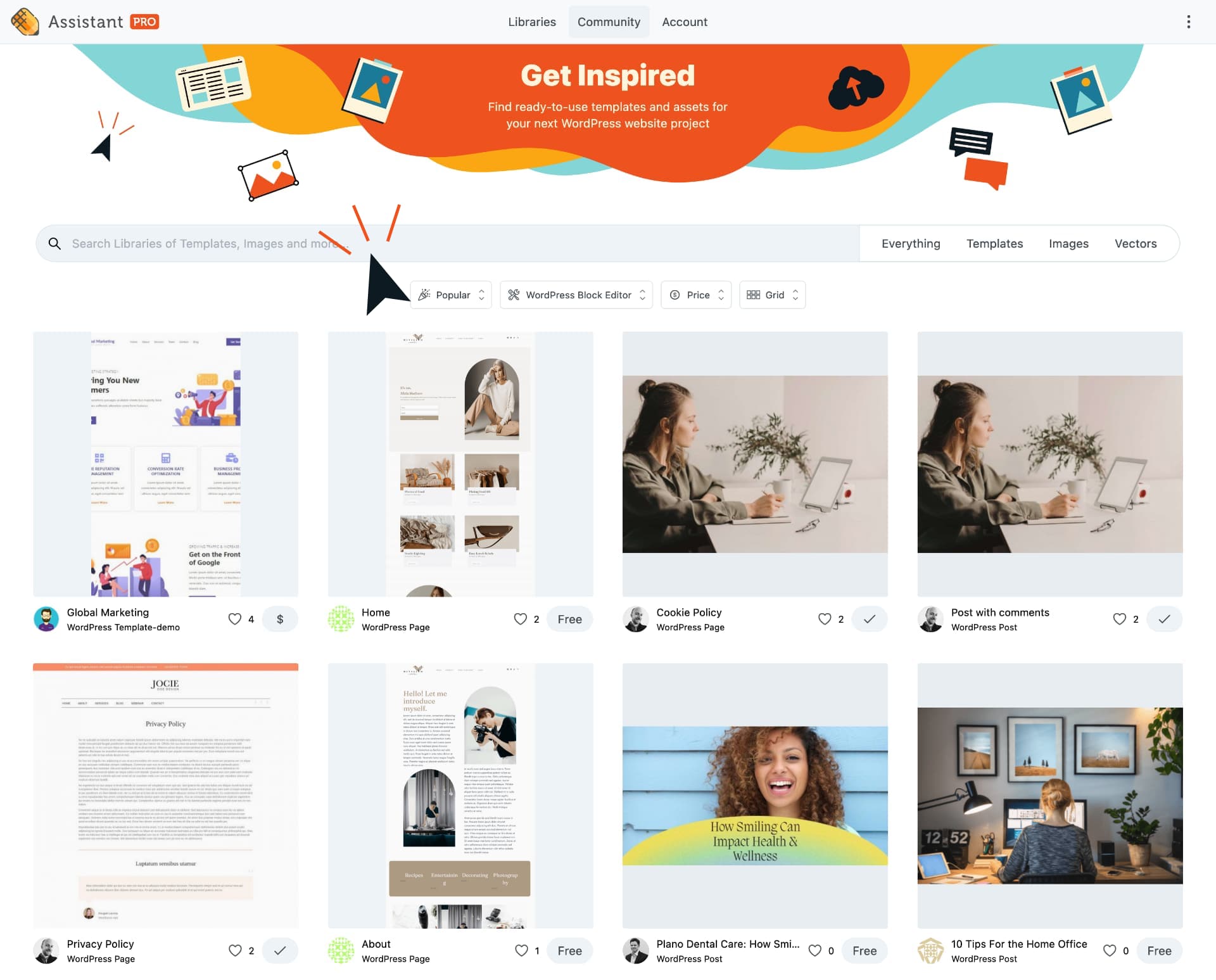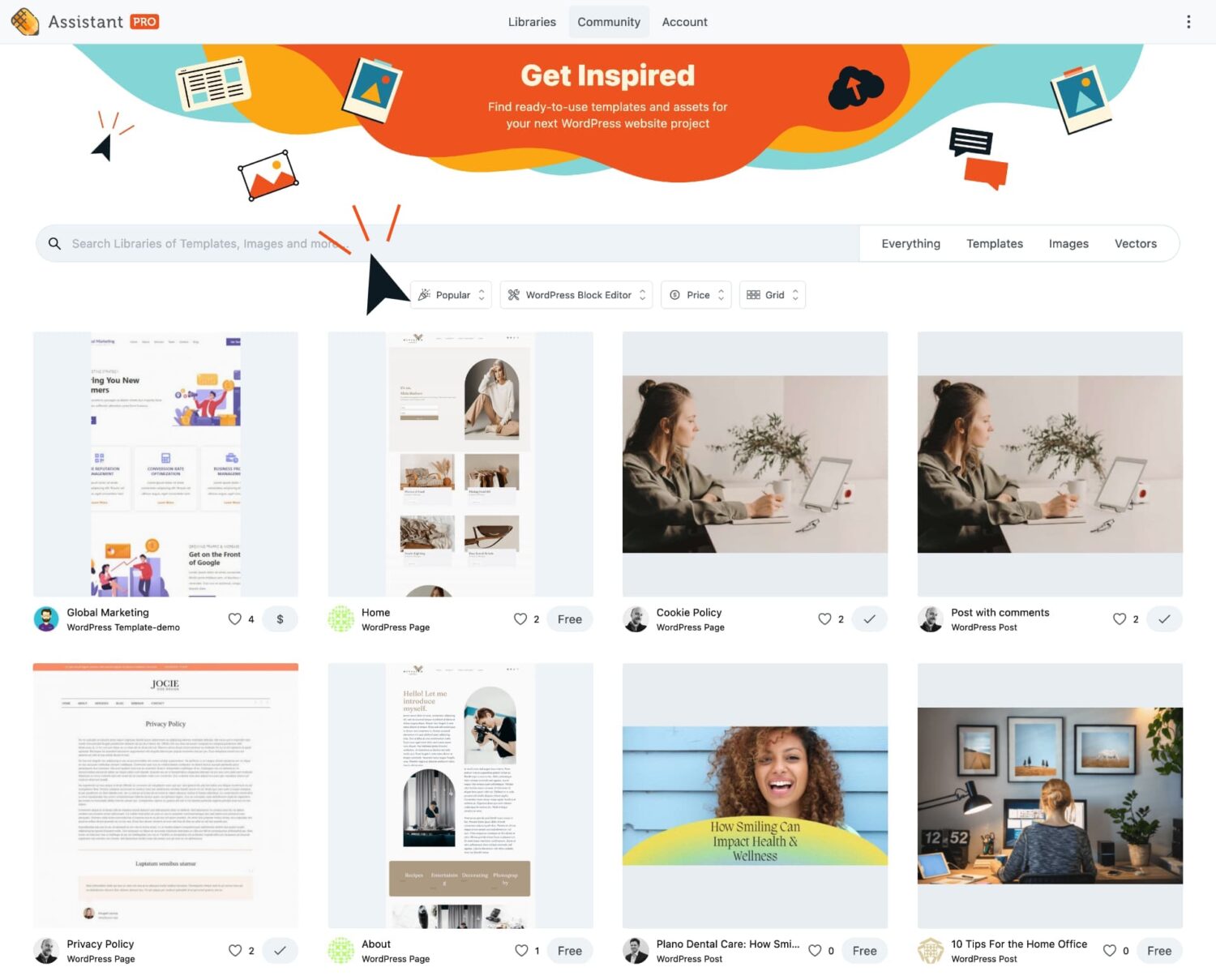 Share Templates With Your Team
Your entire team can get instant access to your favorite design assets in just a few clicks.
No Coding Knowledge is Necessary
Streamline your website- building process with our effortless no-code platform.
Save and Organize Code Snippets
Store all your favorite CSS, JavaScript, and HTML code snippets in one place.
Works With Popular Page Builders
Offers seamless integration with your favorite builders with ease.
Use on Unlimited WordPress Sites
You never have to worry about having to upgrade your plan to get more site licenses.
Safe and Secure Cloud Storage
You can secure your page builder templates and design assets with confidence.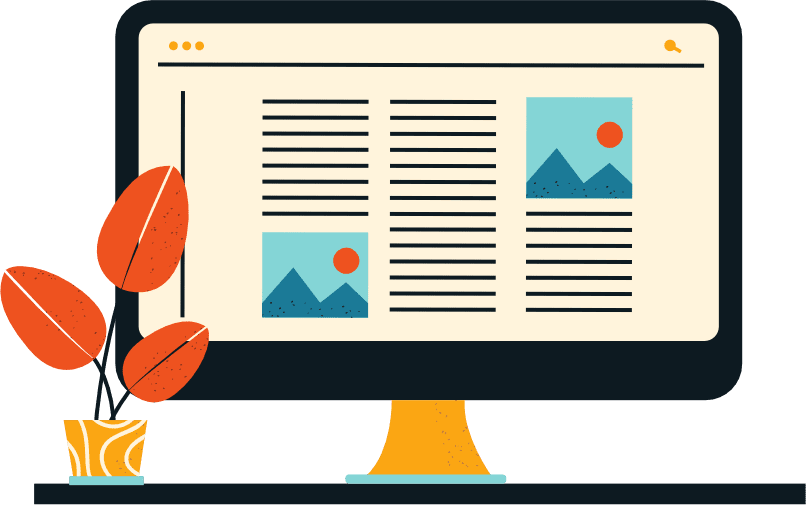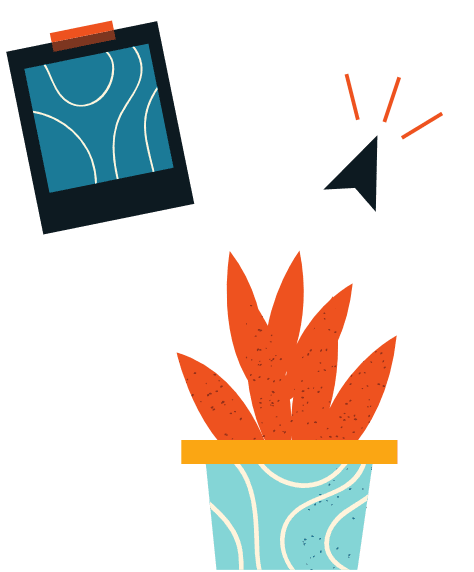 Used by developers, freelancers and agency owners. Whether you're an experienced user or new to WordPress... you can trust that you're in good hands with Assistant Pro.
As designers and website developers time is our most valuable asset.  Assistant Pro is buying me back hours every day... and then some! 🚀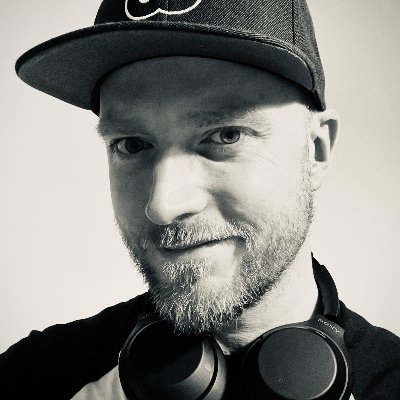 Paul Lacey, Designer
Paul Lacey Digital
Getting started with Assistant Pro is as easy as 1-2-3.
Create Your Account
Simply create your account to get instant access to all the productivity- boosting power of Assistant Pro.
Import & Organize
Add libraries and import your design assets and favorite templates, wireframes, and common pages.
Start Getting More Done
Easily 1-click import any of your design assets to any WordPress site right from the cloud.
Private Personal Libraries
Private Personal Libraries
Private Personal Libraries
Assistant Pro allows you to create collections of templates, design assets, and more and use them in all your WordPress sites.
The Assistant plugin is how you connect your sites to your libraries in Assistant Pro.
Libraries are cloud containers for your website design work such as templates (or layouts), images, vector artwork and colors. Once created, a library is available from all of your WordPress websites.
Assistant Pro accepts any WordPress content that is saved as a post type. You can upload full-page templates, template parts, pages, posts, theme customizer settings, image files, PDF files, rich text documents, and color codes. The file types currently supported are jpg, png, gif, and SVG.
Assistant Pro works great with every popular page builder.
Yes, we offer premium support for Personal and Team plans. We take great pride in offering outstanding support and look forward to assisting you should you need it via contacting us. We offer support for the Free plan and plugin over on the Assistant Support Forum and have detailed documentation that you can reference.
Yes, we include step-by-step video tutorials within the Assistant Pro dashboard. We also have a quick start guide that you can reference.
Yes, we ask that you set up a free account first, take it for a spin... and if you would like to upgrade to our premium features you can easily do so within the dashboard.
Absolutely! You can easily change your subscription status within the Billing Information tab under Account.
The two available billing periods differ in regards to when the payment method is charged and in the total price:
The monthly billing plan charges your payment method each month on the date when the plan was started.
The annual billing plan charges once a year on the date when the plan was started and offers a 20% discount.
Yes, your Assistant Pro subscription will automatically renew after one month or year depending on your subscription, although you can easily cancel auto-renewal on your account page within the Billing Information tab under Account. An active premium subscription is required to access some Assistant Pro features and premium support.
When an active Assistant Pro Premium subscription is canceled or not renewed, you'll have the option to make private libraries public libraries, or, leave them private, but in read-only mode. You may delete and/or transfer private libraries via settings. If you would like to use private libraries, you must have an active Assistant Pro Premium subscription.
The number of user accounts depends on your subscription (Free, Personal, or Team). The Free and Personal accounts each offer one user account, and Team offers three user accounts. You can add additional users at $5 per month each.
We accept payment via Stripe (Visa, MasterCard, JCB, Discover, Diner's Club, and American Express card). Although we don't think you'll ever want a refund, we will gladly refund your purchase if it's requested within 14 days.